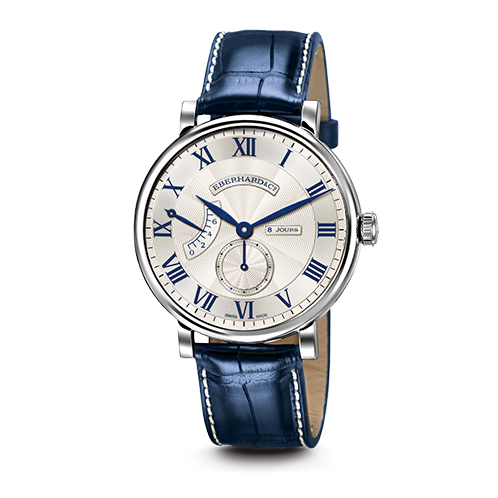 MORE
TECHNICAL EXCELLENCE
8 Jours Grande Taille was born in the 1990s from an intuition that applied the technology adopted for pocket watches to wristwatches. Thanks to two overlapping springs that together exceed a meter and a half in length, 8 Jours Grande Taille can only be charged once a week. An indicator on the dial with a patented device indicates the remaining power reserve.
THE ELEGANCE OF DETAILS
From an opening on the sapphire case-back, it is possible to admire the unwinding of the second spring visible through a skeleton bridge that highlights the shape of the colour coated number "8".
THE NEW DIALS
The Maison enriches the collection with two new dials: the elegant blue, embellished with a white outer area, and the new white with a silvery edge, both enriched with a guilloché finish. The roman numerals and refined counters, together with the vintage-style logo, are details of a timeless look of extraordinary elegance.
more info
For info about the technical features of the 8 JOURS GRANDE TAILLE including downloadable material such as the user manual.